Ayatollah Ali Khamenei renews attack on Saudi Arabia over killing of Sheikh Nimr al-Nimr, saying the 'political error' will be punished
Iran's supreme leader, Ayatollah Ali Khamenei, has renewed his attack on Saudi Arabia over its execution of a leading Shia cleric, saying that politicians in the Sunni kingdom would face divine retribution for his death.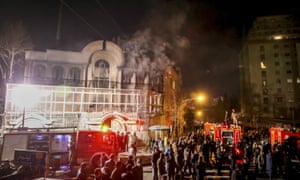 "The unjustly spilled blood of this oppressed martyr will no doubt soon show its effect and divine vengeance will befall Saudi politicians," state TV reported Khamenei as saying on Sunday. It said he described the execution of Sheikh Nimr al-Nimr as a "political error".
"God will not forgive… it will haunt the politicians of this regime," he said.
Guardian